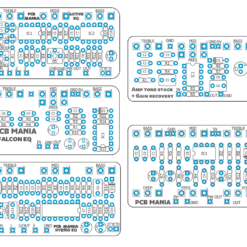 Out of stock
Have you ever wonder how it will be an Acapulco gold with extended EQ? or how nice it would be a Tube screamer with an active EQ section? Maybe Wampler Plexi with the Eq Section of the Freeman Be-od to make your own ultimate plexi? Well now all of that is possible with our new EQ pack, consisting of 5 modular boards with the isolated tone controls of some of the most famous pedals out there.
We created the EQ packs answering our need of creating and developing new projects. This set of 5 different EQ sections had been designed with the idea of being an add-on to any of pedals that lacks of a tone stack or that has one that you don't feel it takes the best out of your unite.
Our ultimate goal is to allow YOU to create your own designs, mixing and experimenting with classic effects, with one knob fuzzes and more!
Important!
You should be able to read schematics to fully understand how and where to add this eqs on the best possible way.